The Art Deco masterpiece we know as the Queen Mary will serve as the backdrop and hostess for a new Art Festival taking place from June 2nd through June 5th in Long Beach. The "new and innovative, immersive art festival," ART GATHERING will present over 150 artists, galleries, independent artists and artisans, 280 tattooists from around the world, performance art, large interactive installations, film and punk rock DJ's.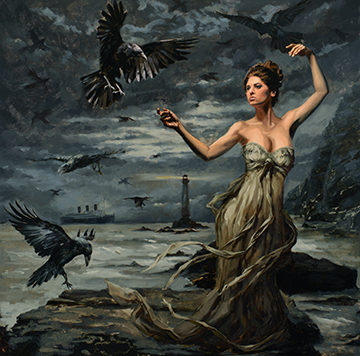 Participating artists include, Jeff Gillette, Blek le rat, NYCHOS, Ron English-Street Artist, Chet Zar-Dark Artist, Michael Hussar-Darker Artist, Carlos Torres-Tattooer, Bob Tyrrell-Tattooer, Sket One-Street Artist, Mike Bello-Kustom car Builder, Paul Booth-Tattooer, SHAG-Artist.  The Gregorio Escalante Gallery, the La Luz De Jesus Gallery, the Copro Gallery will hold showings in the Grand Ballroom.  Ron English and Chet Zar will have pop-up stores and be signing limited edition collectables and posters all weekend long.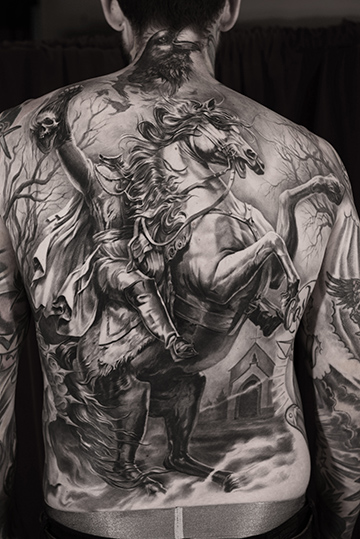 Punk rock legends Greg Hetson of Bad Religion, Joe Escalante from the Vandals and Dead Kennedys front man Jello Biafra will be spinning along with the artist COOP.  In the tattoo gallery in the Queen Mary Exhibit Hall, independent artists will showcase in booths and on the Kulture Klash wall. Performance art, and multimedia artists will be featured in the Corner of Curiosity.
"Historically, Long Beach has been the nexus for tattoo culture, and its location between Los Angeles and Orange Counties and the presence of the Queen Mary, a unique convention location, makes this perfect spot for this new type of immersive art festival," says Michael Keith. He continues, "Art Gathering is the first of its kind multi-media art festival with tattooist, contemporary to multi-media artists and collectors. It is a one-of-a-kind art experience."
Spotlighted attractions include the seminar Academia, Painting a Monster Portrait in Oil with Chet Zar. A four-hour demonstration, Zar is referred to as "Painter of Dark" as he demonstrate his process for painting in oil. The "Make Your Mark" Award celebrates the impact of a painter and tattooist on the art community. 2016 honorees include Pop artist/muralist Ron English and Surreal tattooist Robert Hernandez who will participate after travelling from Spain. The seminar, Narrative Painting: From Idea to Finish with Michael Coy will present an overview of the basics of painting including composition, form, perspective, and color. The Tattoo Contest is a hit for fans of body art. Photos courtesy Art Gathering.
ART GATHERING, June 2 to 5, 2016
Queen Mary, Long Beach
1126 Queens Highway, Long Beach CA 90802
Tickets are $25/day, $60 for 3-day pass. VIP ticket which includes Thursday preview and weekend pass $100. Children 16 and under free with adult.
Thursday: 7pm to 10pm VIP viewing party
Friday thru Sunday: 11am to 10pm
http://www.eventbrite.com/e/art-gathering-tickets-20003981447
Queen Mary suites are available for two-night minimums with ticketed guests only allowed on board during Art Gathering.