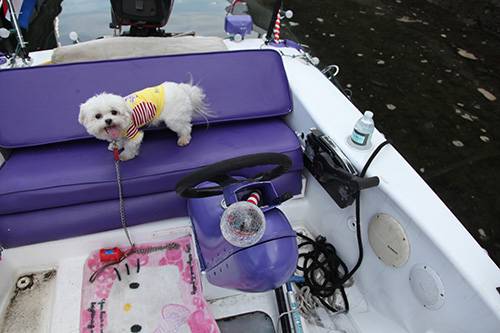 On the 87th Academy Awards Oscar Night, February 22, 2015, Dakota Johnson and mother Melanie Griffith's Red Carpet banter discussing Fifty Shades of Grey was all the rage. Apparently mom Melanie has not  seen the movie.  "It would be weird." Dakota's choice answer.
That may be crazy, but we've discovered something even more crazy. An Oscar link to our favorite dinghy, "Yachts O' Yuks." Here's how the story goes as told to us and by some further investigative reporting.
Melanie Griifith's mother, Tippi Hedren was married to Noel Marshall from 1964-1982. Tippi, star of the Birds and Cheetah wildlife preservationist and Noel Marshall, a Hollywood agent who became the executive producer of the 1973 smash hit film, the Exorcist and ROAR are famous for allowing Melanie to sleep in bed and swim in their family pool with Lions.  Melanie is Tippi's only daughter by her first husband, actor Peter Griffith. They had been married from 1952-1961.
As the story goes, Noel Marshall had his yacht in Marina Del Rey, California  and then in Long Beach. The dinghy in question, according to Keith Cameron of the Marina Venice Yacht Club, was shipped by Marshall to Los Angeles from London and was tethered to his House boat in the Marina and later in Long Beach. There's a cool; youtube video honoring Noel who lived on a large houseboat for years. At 4:54 on this youtube clip, you can see the houseboat and in the back… is that Yachts O Yuks?
As our story continues, Melanie famously married Miami Vice star Don Johnson when they were very young. Dakota is the daughter of Don and Melanie. Now Dakota is a respected actress rocking the Oscar Red Carpet for the wildly popular Fifty Shades of Grey.
Five Knots of Yachts O' Yuks and Fifty Shades of Grey… Dakota Johnson, daughter of Melanie and Don, granddaughter to Tippi Hedren who was married to Noel who owned Yachts O' Yuks!
No wonder Shooter Diva painted it  ROYAL PURPLE!