Celebrating 50 Years in Marina Del Rey.  Opening Day marks the official beginning  of Yachting Season.  The ASMBYC Marina Del Rey Opening Day will be held March 12 – 13, 2016 8:30 a.m. until 6:00 p.m.  This is an invitation only event.  Each Club will introduce it's new Bridge. Day 1 SMWYC, CYC, MVYC and Day 2 SCCYC, PMYC and DRYC.   The biggest question for a "newbie" is "What do I wear" ?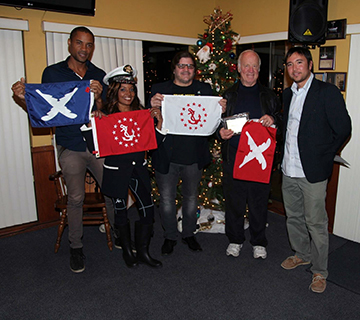 The proper attire for Opening Day is White Pants (or Khaki), Blue Blazer, White Shirt, Red Tie and white shoes for men, and White Skirt, Dress and Blue Blazer for women.  Dont forget your club Bouillon on the left side and your name tag on the right.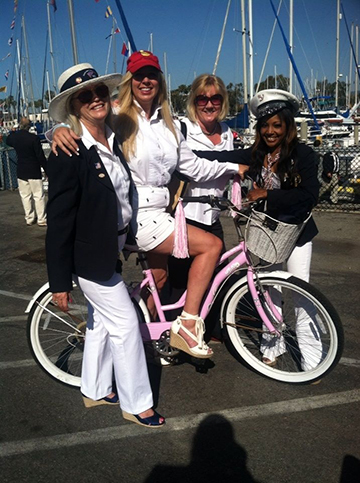 Of course you can put some swagger on your outfit by adding a smart scarf that is colour coordinated to your clubs colours and a Panama straw hat to top it off.   Transportation is provided for all invited guests, however you may use your private dingy vessel or bike it to avoid the long boarding lines.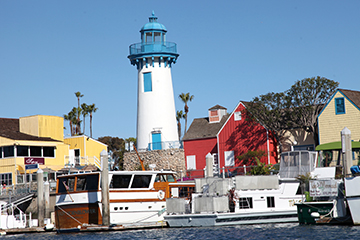 Hold on to your ears when you hear the words "Fire in the hole!" Be prepared to hear a lot of "Booms" as Cannons will fire off at the beginning of every ceremony and then a synchronized cannon fire from all the clubs at the close of each evening at 17:59 with SCCYC leading followed by SMWYC, MVYC, CALYC, DRYC and PMYC.
Photos courtesy Gisele/Partyby5.com follow us on Twitter-Instagram @shooterdiva @gotanchored #ASMBYCopeningday  View a full gallery of all opening days on Partyby5.com