The Stars came out for the 57th Grammys on February 8, 2015 located at the Staples Center in Downtown Los Angeles. When you've been nominated for a Grammy 16 times with a win to your credit, you pretty much have it down. By now you know Grammy Day is all about the friendship, fun and the camaraderie that exists among your team.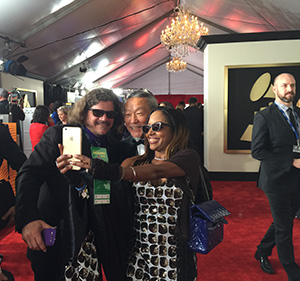 Now I know first hand — Team Kitaro is in a class all by themselves. Domo Music Group and Kitaro demonstrated on this 2015 57th Grammy Day Awards Ceremony, that the artistry and creativity it takes to produce a Grammy nominated project like Symphony Live in Istanbul is a great deal of work, but well worth the effort…. and Grammy Day… that's a whole different kind of work! And they're off… So much to my surprise, Grammy Day started off with a Red Carpet "RED ALERT"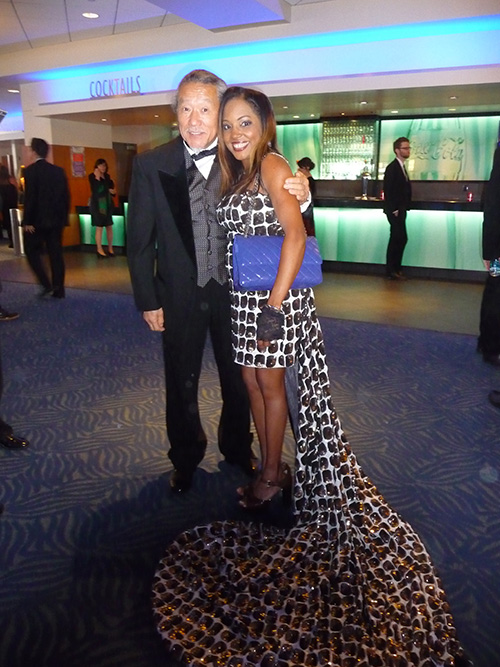 Surprise! Kitaro with Manager and Domo Music President Eiichi Naito, Domo VP/A&R Dino Malito, Exec Howard Sapper, their Hands On Production, PR guru CAM, wives Keiko Kitaro and Keiko Naito and myself in tow, was informed at the last moment that Kitaro's Best New Age Album Category, which is traditionally presented toward the end of the Grammy Premiere ceremony would be presented "FIRST… FIRST."
As Kitaro rolled up to the Red Carpet drop-off and entrance in a cool, black G-Wagon, it was a race against time. Question? – Have you ever had to run a red carpet at the Grammy's in a gown with a train and Michael Kors heels. Try it sometime. It's a blast.
We have less then five minutes to get from the top of the red carpet on 11th Street to the Nokia Theater in time for Kitaro's Best New Age Album announcement… Time was definitely of the essence and snap decisions had to be made. Kitaro stopped for a quick "official Grammy Photo," almost had time to speak with Extra TV and made his way past the likes of Gaga, Kim Kardashian West, Kanye West, Nicole Kidman, Keith Urban and "Rhi Rhi".
By the time we made it to the photographers' "Bull Pen" at the end of the Grammy Red Carpet, we were all gasping for air and ran to the Nokia Theater with seats waiting. I ran pretty fast but I have to say, Keiko Takahashi and Keiko Naito were really fast too. With not a wardrobe malfunction between us! That was the most fun you can have on a red Carpet. We made it to our seats just in time to hear the orchestra's downbeat and Grammy Day 2015 was officially on. The day just rolled-on from there with Team Kitaro enjoying every single moment. I especially enjoyed googling "Kitaro Grammy Awards 2015" and seeing "35 minutes ago" appear on the USA Today website with this photo caption.
"Kitaro, who's 16th Grammy Nomination for Symphony Live in Istanbul is his first-ever recording released with a LIVE symphonic Orchestra seen on the red carpet at the 2015 57th Grammy's in Los Angeles.
You gotta love the internet. What a day. We all instagramed and tweeted.  I knew It was going to be a wonderful day as we were greeted by our own American Idol, JaqRox at the escalator on our way to the carpet.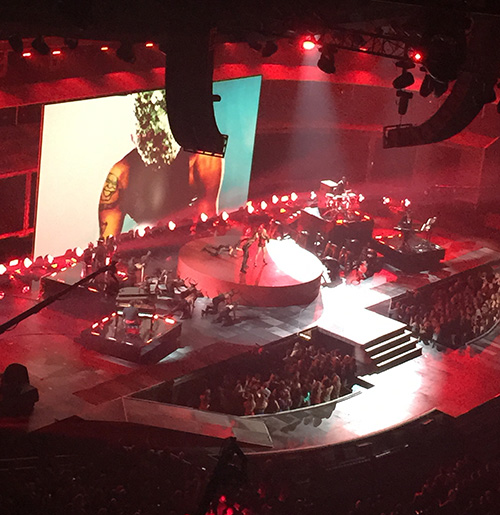 As for the telecast, I loved Madonna, AC/DC, Usher, Sam Smith, and my overall favourite, Miranda Lambert. Our Grammy Day ended in Beverly Hills with an intimate gathering featuring our amazingly talented artist and an equally talented and gracious group of true industry professionals – both family and friends – who demonstrate the kind of elegance and grace one doesn't experience that often in the music business today.
Thank You all for the Best Grammy Day Ever #TeamKitaro. The critics all say that as a Grammy and Golden Globe winner you're the Best Composer and New Age Artist… but I say in addition to that — YOU Kitaro ROCK! Special thanks to I.C.O.N. Woodland Hills for my making my hair look fabulous and Vvigoure Gowns.
Photos courtesy Partyby5.com. For commercial use PRPhotos.com