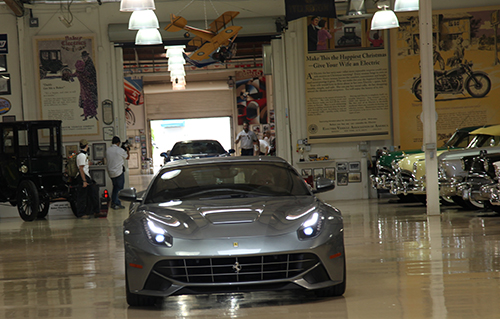 It was a "Gasser" of an event at Jay Leno's Garage with Jay Leno and Mario Andretti playing hosts for Shell's new V-Power Nitro+ Premium Gasoline.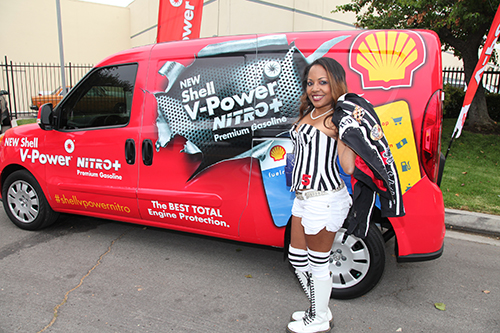 The Shell V-Power NiTRO+ Drivers Relay wrapped-up in Los Angeles on Tuesday, June 9, where legendary racer and team owner Mario Andretti, Jay Leno with Shell execs and scientists all converging at Jay Leno's ultra-exclusive "Garage" in Burbank, California. Arriving in three gleaming Ferrari's with his Shell crew, Mario Andretti exited from the Ferrari, shook hands with Jay Leno stating, "I've always wanted to come to this place Jay.. and now I'm here!"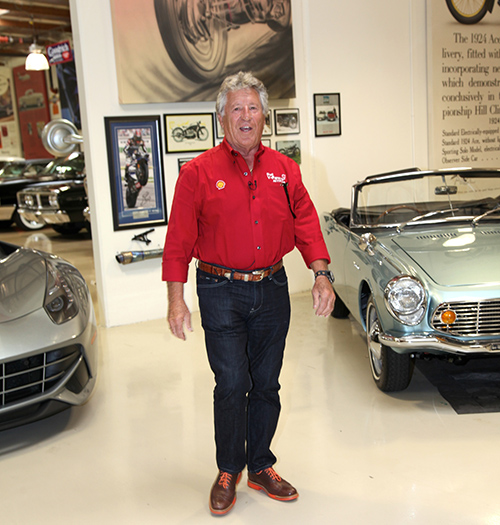 While many things in Los Angeles are hyped beyond hope, Jay's immaculate and amazing facility is really one Hollywood's true wonders. Jay's place is also one of the few things your hear about, that is actually so much better in-person than any description. It's an auto enthusiasts dream, larger and packed with more fantastic rides and bikes than anyone can imagine. Anyone who is fortunate to receive an invitation to this place… you better not say no!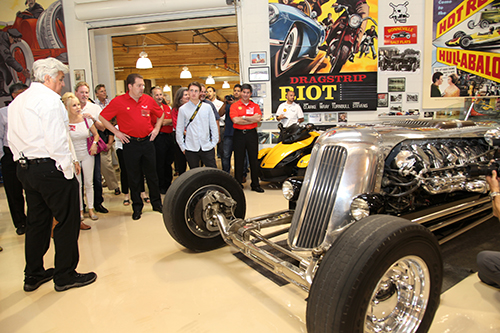 The entire event was Shell's way of unveiling their new breakthrough fuel called Shell V-Power NiTRO+ Premium Gasoline which according to Elen Phillips, Vice President, Shell Americas Fuels Sales and Marketing is "the BEST TOTAL engine protection you can get." Elen says "It's unique formulation designed to deliver unbeatable protection against gunk and corrosion on critical engine parts and superior protection against engine wear."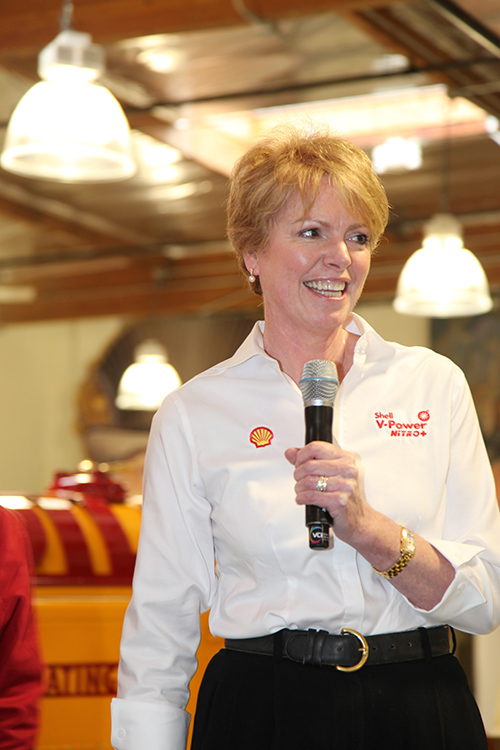 To prove their point, Shell engineers demonstrated the engine of a "Dual Fuel Car" to evaluate how the fuel impacted the car's performance during its cross country journey. The Shell side of the engine was literally "clean as a whistle."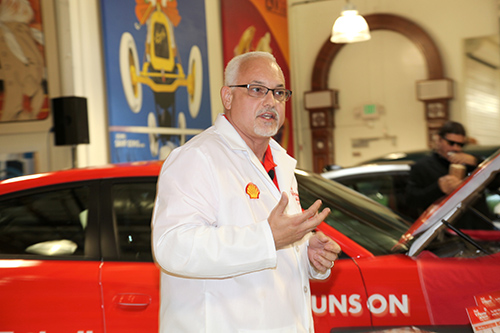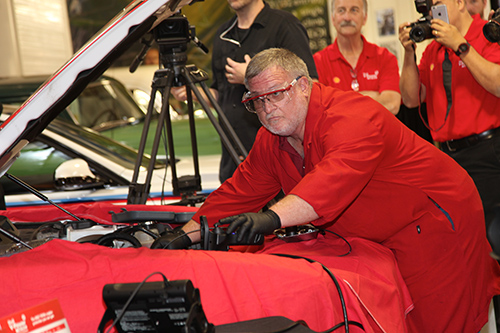 What an amazing treat to meet Jay and have a personalized tour of his garage by the legendary comedian. Jay was totally engaging and a most relaxed and congenial host, answering questions and delivering great one-liners to the enthusiastic invitation-only crowd.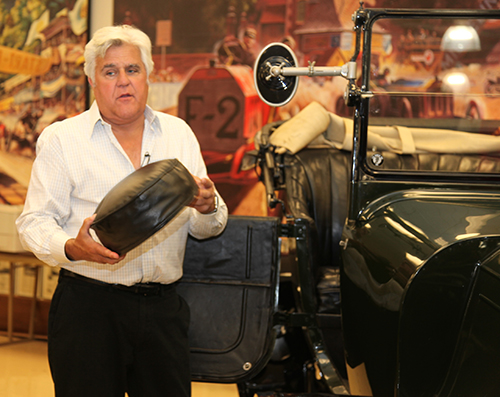 An invitation to Jay's Garage is a coveted event by anyone — especially anyone who loves cars and motorcycles. From Lamborghinis, to Lincolns and muscle cars to ENORMOUS roadsters from an era gone by… it's all there. And Jay is so proud of the fact that every car is in running order, has tags… and insurance.

Thanks Jay for opening your garage to us. You can see Jay's great automobile web series at www.jaylenosgarage.com. As if that weren't special enough, we were granted an exclusive, one-on-one interview with Mario Andretti.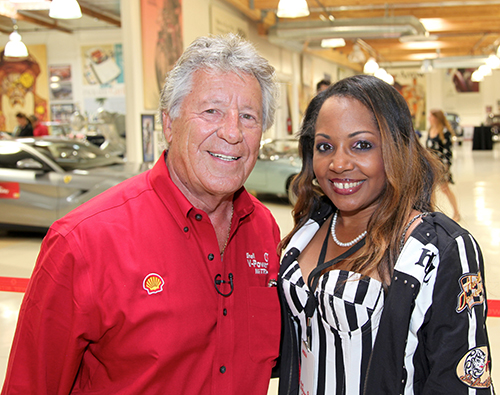 Mario, who is famously quoted as saying, "If everything seems under control, you're just not going fast enough," is one of only two drivers in auto racing history to win in Formula One, IndyCar, World Sportscar and NASCAR. Mario won the 1978 Formula One World Championship, the Indianapolis 500, the Dayona 500 and enjoyed 109 career wins on major tracks.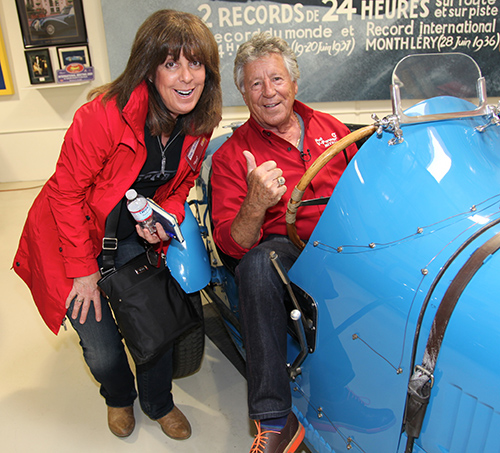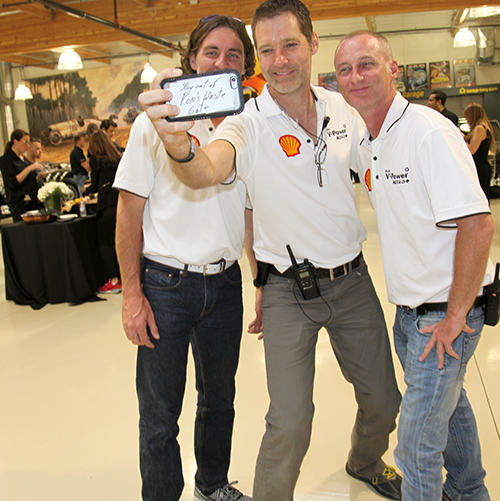 Mario Andretti concluded, "We have a real fuels technology breakthrough with the new Shell V-Power NiTRO+ Premium Gasoline." And regarding this year's exciting 2015 IndyCar season, Mario simply said, "We're ALL-IN!"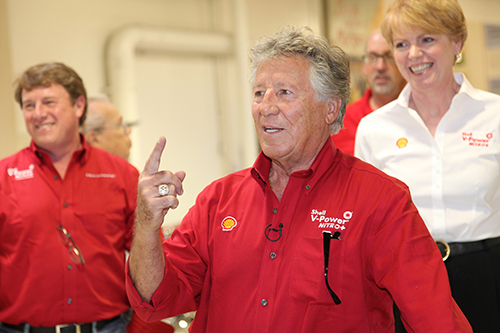 Congratulations to Mario, Jay and the entire Shell team for a tremendous event as Shell V-Power NiTRO+ reinvents Premium Gasoline.  Photos by Gisele "Shooter Diva" view a complete gallery of the 3 hour tour on Partyby5.com.