If you're looking for some grown  up  fun  on Halloween October 31st, Nic's Beverly Hills & GOT Anchored Magazine with host  The Inaugural Fifi & Romeo "Fifi Wonderland" Halloween Costume Fashion Show Competition. Nics Beverly Hills is located at 453 N. Canon Drive Beverly Hills, Rsvp: info@gotanchored.com 310-600-6912.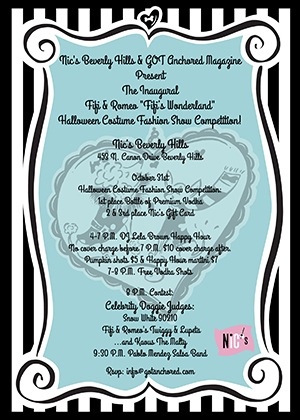 Happy hour will begin at 4:00 p.m. until 7:00 p.m. with speciality themed drinks throughout the night. Pumpkin shots $5 and happy hour martinis $7. DJ Lela Brown will spin cuts  7:00 until 9:00 p.m. The Halloween Costume Fashion Show Competiton will be judged by celebrity doggies PPBoyz "Snow White 90210″, Fifi & Romeo's (as seen on The Real Housewives of Beverly Hills, Legally Blonde)  "Twiggy and Lupeta" and Sam Sarpong (BET Host) with Paparazzi Comedy's (Formerly at The Jon Lovitz Comedy Club Universal City Walk) "Kaous The Malty". Free entry before 7 p.m. $10 cover charge after 7:00 p.m.
Halloween costume fashion show competition will be judged in three categories. Best Nic Inspired Costume 1st place bottle of Premium Vodka, 2 & 3rd place winners Best Fifi in Wonderland Themed Costume and Best Creative Costume will receive a Nics Gift card. 8pm fashion show contest will begin.
Celebrity Photographer Gisele/Partyby5 will be onsite taking photos of the event.
Pablo Mendez Salsa Band will perform live at 9:30 p.m with dancing all night long.
For more info: www.GOTAnchored.com