It's been quite a year for the @Patron XO Cafe Incendio @ToyotaRacing Funny Car team. A Sunday to remember at the Pomona Fariplex NHRA 51st Annual finals  for the year on November 15, 2015. We were up-close to witness all the action from the Patron Pit and Hospitality Tent with driver Alexis Dejoria's Patron XO Café Incendio Nitro Funny Car Team. Most race team guests are not treated like royalty… But we were! Thanks to the entire staff and crew.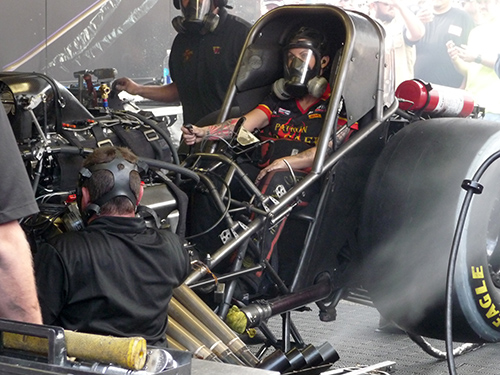 In addition to top-notch mechanics, an expert crew, a great driver and wonderful spirit, this Patron team is jam-packed with amazing marketers and brand drivers! Even the merch-mobile is a sight to see.
American businessman, John Paul DeJoria is best known as a co-founder of the Paul Mitchell and The Patron Spirits Company. His gracious demeanor and ability to make every guest feel like a part of the team was truly spectacular.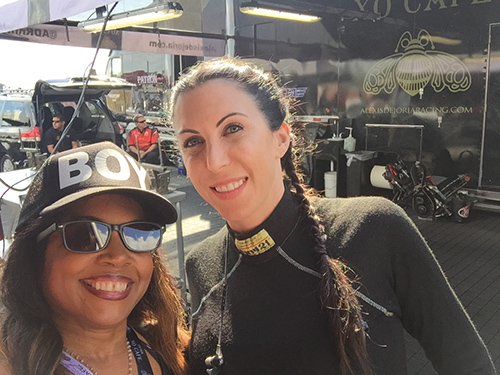 But the one thing I personally observed is the attention to detail constantly on display by Alexis' mechanics, always looking out for her safety. One person in particular that was especially watchful was Jesse James. I witnessed Jesse James meticulously fueling the vehicle, then spend many, many minutes personally making sure every drop of fuel had been wiped clean from the machine. I know Jesse can build almost any part or machine from scratch and now I see how he does it. That's looking out this amazing team, Jesse James!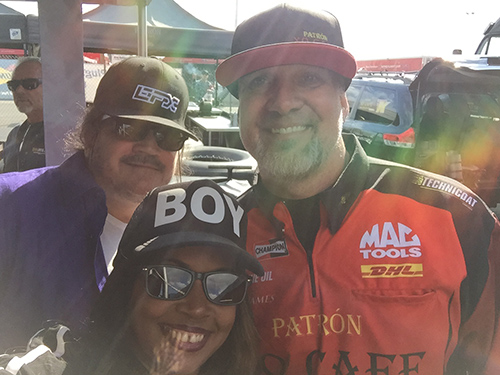 Alexis made extra-time for her fans with Jesse popping his head out between wrenching duties to make sure all his fans we well greeted. Amazing… all in the course of the high-stress world of NHRA Drag Racing.
After a first-round win of epic proportions, the team had 31 minutes to pull the 11,000 HP engine, repair and replace parts and put the entire thing back together again! They did it like the champions they are… and after a slight rain delay, unfortunately for our super-girl Alexis, a second-round win proved to be elusive.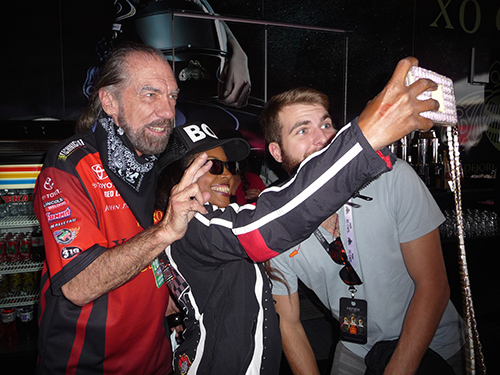 Alexis Tweeted "The @Patron team made a solid 3.955-sec pass, but it wasn't enough for Capps' 3.885 #NHRA #AutoClubFinals #TilNextYear"  Alexis' amazing team finished the 2015 @NHRA @MelloYello series in 8th place.  That's how you do it!  Finally, congratz to The 2015 Mello Yello Funny Car Champion, Del Worsham @DHL_Del @TeamKalitta.  Photos by Gisele "Shooter Diva" Partyby5.com