Giacomo Mattioli is at it again. This time is Westlake Village, California of all places.  Giacomo… when do you sleep? Between racing and opening new Ferrari Stores, this man is the Energizer Bunny of Ferrari.   The Ferrari Westlake Dealership at 3195 Willow Lane, Thousand Oaks, CA 91361 is the latest addition to the Mattioli Automotive Group, North America's premiere Ferrari dealership group, which includes the Ferrari Los Angeles Service Center, as well as sister stores Ferrari Beverly Hills, Ferrari South Bay, and Ferrari Silicon Valley. They really are "committed to delivering exceptional service aimed at the full satisfaction of each Ferrari Pilot."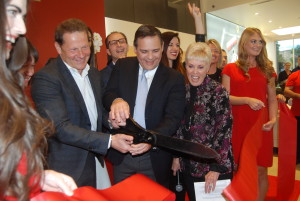 I'm a Ferrari Pilot… and I completely agree. In fact, our MYC Boat just won the Marina del Rey Boat Parade as a repeat champion with the theme, "Santa Gets a New Ferrari"  Conveniently located in Thousand Oaks, Ferrari Westlake has both new configurations as well as pre-owned vehicles for sale, Ferrari Factory-Authorized Service concierge.  Great stories of long-time working relationships were told by the Ferrari luminaries on-hand… many of whom have worked together for decades. Very cool!
For some reason, on this night, the politico's were in full effect. I suspect 10 years ago, the thought of a Ferrari Dealership in Westlake Village was probably not dreamed of. Now, mayors and council people from limes around were all on hand to take their 10 minutes.  Fast Toys Exotic Car Club Boys Chris and Lyon were in the house talking about their new Ferrari racer taking to the track next season, as was our favorite Supercar Sunday CEO… Dustin, my man… with his lovely wife and daughter in tow!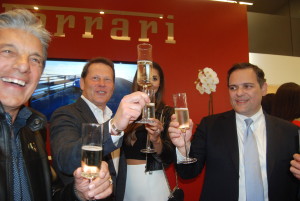 So drive, Uber, Lyft, Hitch, Bicycle, Walk or fly to the new Ferrari Store in Westlake Village, California and buy a car so Giacomo can pay for this new supercar palace!  Do it for your wife, husband or significant other for that special surprise soon because… They're going, going, gone…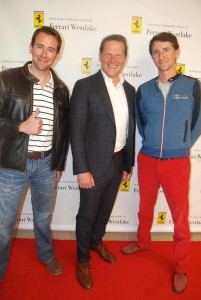 Salute and Congratulations Team Mattioli!  Click here for event photos of the grand opening complimentary of PARTYBY5.