10th Annual Concorso Ferrari Features Fast Toys, Carfathers and Fun in Old Pasadena on Sunday April 23, 2017.  The 10th Annual Concorso Ferrari hosted by the Ferrari Club of America's Southwest Region is for my money (it's FREE!!) THE BEST collection of Fine Ferrari's presented for public viewing annually.
Now, on to the Cars. Ferrari's are often referred to as rolling works of sculpture… and they are certainly that!  Remember that this is a show with trophy's and judges, so each and every vehicle is perfection. The event follows the Ferrari Club of America National guidelines – IAC/PFA.  New, vintage and somewhere in the middle, everywhere one looks is Ferrari poetry on wheels. Enzo would be loving this!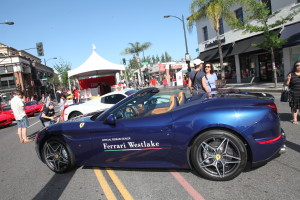 Many of the booths feature Solid citizens for the world of Ferrari including Lyon. Kassab and Chris Carel from Fast Toys Club who debuted their new slick race car which Carel will drive in the Ferrari Series this year and have a Ferrari Challenge online contest going on where entrants can will a club membership worth $8,000.00. Go to www.fasttoysclub.com to enter and see the rules.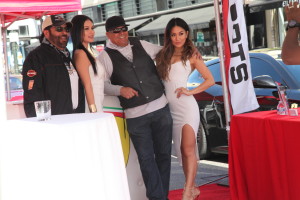 Also on hand, our good friends from the Mattioli Automotive Group who showed-off the latest in Ferrari Fun, Fashion and Cars.  Damiano Barbuscia from Ferrari Specialists Franco's European Sports Cars and The Carfather TV series was on hand to have a stroll and enjoy the scenery and the tight judging.  Ten classes were judges in total and I will take one each in assorted colors, please!  Old Pasadena's Police and Firemen are so friendly and helpful it's a treat knowing they are on the job keeping us safe.  The pancakes at the Cheesecake Factory… OMG!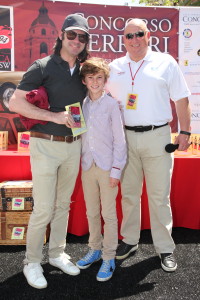 Salute! Salute! Caio, Caio! For a full gallery of coverage Partyby5.com