The Catalina Film Festival runs September 27th – October 01, 2017 in Santa Catalina, Avalon California. The main Redcarpet events are held at the Avalon Theatre 1 Catalina Way. Screenings are also held throughout the island ACC Theatre, Lancer Auditorium, The Overlook Hall and The Wrigley Stage.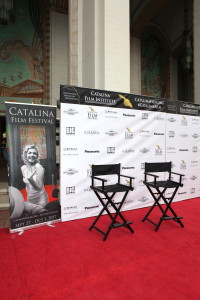 It's a beautiful day in the neighborhood on Santa Catalina Island at the 7th annual CFF.
Hollywood's Magical Island set manages to clear the carpet even on a fog filled day.This year we celebrate the "7 Year Island Itch!" -says Founder Ron Truppa. The Co-Founder of Catalina Film Festival is Delious Kennedy.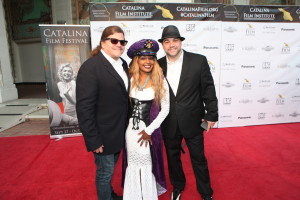 The only way onto the Island is by a water vessel or helicopter unless you're a really good swimmer. We arrived in style on the Catalina Express Ferry in 90 minutes. There was a full bar and snacks available. The Catalina Express is known for its delicious Bloody Mary's! Rides are very reasonable www.catalinaexpress.com.  Commodore Lounges and Captains Lounges are also available.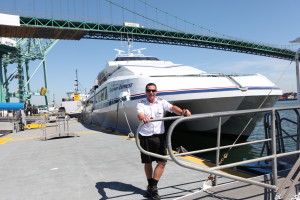 The Catalina Film Festival provides a complimentary shuttle cart once you arrive and will transport you to the festival check-in at the Island Spa Catalina 163 Crescent Ave. The carts are driven by wonderful locals that volunteer for the event. Seaport Hotel is within walking distance to the festivities and has great accommodations. Seaport Hotel also provides breakfast 7:00am until 10:00 am. The Metropole Hotel is where all the action takes place.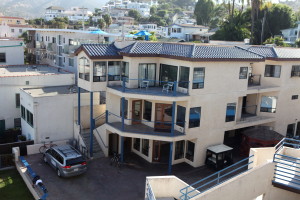 Among the celebrities attending was Jordan Vogt-Roberts (Kong:Skull Island) the winner of the most prestigious award of the night "The Crest Award"- Director. Vogt-Roberts an American Film and TV Director and Screenwriter. His Feature directorial debut, The Kings Of Summer screened at the 2013 Sundance Film Festival. The film won the Narrative Feature Audience Award at Dallas International Film Festival.  The Crest Award, for directors signifies an acknowledgment of great momentum with the respect to their filmmaking career.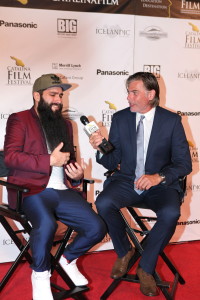 Also attending day 2 were Slater Dixon "Incendio" and Makenna Lee "I Found My Love In Catalina". "Social media: @gotanchored @catalinafilm @modernpr #catalinaFilm. Photos courtesy of Gisele/Partyby5 and can be found by the following links: 555.Events and PRphotos