Premiere of The Hit Gospel Play "The Love Shack" at the historical Wilshire Ebel in Los Angeles, February 20-21, 2016.  The event was well attended.
Written, directed and Produced by Paul D. Hannah with Kimberley Zulkowski, Co producer / EP Love Shack attended the star-studded red carpet accompanied by the cast and celebrities. Among the cast were Candace Glover (American Idol), Ann Nesby, Eric Dawkins, Damita Chandler, Trisha Mann-Grant, L. Young, Billy Sly Williams, Dave Hollister, Yolanda T. Leo's, Jonathan Mouton and Eric Thorope. Celebrities sighted included Porscha Coleman, Trae Ireland and Brely Evans.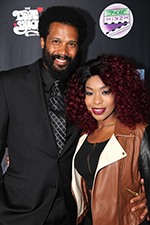 "Love Shack was a wonderful play with a great message, delivered in a funny and relatable way. The music performances, the comedic and dramatic beats where truly delivered by a talented ensemble, who kept me interested the entire show. I really enjoyed the production." -Porscha Coleman.
Photos courtesy Gisele "Shooter Diva"/Partyby5